History - The Story So Far..
Our reputation has been built on word of mouth and recommendations.
My family roots in transport and warehousing gave me the inspiration to start my own business back in 1999. With one van driving thousands of miles across the British Isles, dedication and hard work has allowed the Hinks Haulage name to succeed.
Over the past twenty years and with the backing of a great team of professional staff I have been able to re-invest in the company and now run a fleet of 19 trucks and operate two consolidation and storage facilities, both warehouses together are around 30.000 square feet. If you would like to be part of our story please give us a call on 0121 552 1756 the next chapter is waiting to be written!!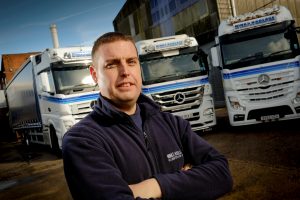 We operate a modern fleet of vehicles covering all areas of the UK. All of our vehicles are tracked 24/7.
We can offer a full cargo handling consolidation service
Safe and Secure Facilities (AEO Accredited)
ADR Cargo Handling (Collections and Deliveries)
Both of our warehouses are covered by CCTV which is operated 24/7
We are FORS Bronze
ENQUIRE TODAY!